Sunvia water collection systems are completely autonomous, using photovoltaic solar energy, wind power or the combination of both allow the water supply anywhere throughout the year. We design and install high quality submersible and surface pump systems. Submersible pumps for water collection from wells, and underground water sources are ideal for agricultural and livestock irrigation systems, as well as for applications away from the public network and for difficult access areas:
Villages;

Schools;

Farms;

Animal and Natural Reserves.
Surface pumps can be used as circulation pumps for swimming pools or to increase pressure in domestic applications:
No fuels or lubricants that increase the risk of water pollution;

Quick and easy installation;

Protection against dry running through sensors;

Reliable and long lasting;

Diverse possibilities for expansion.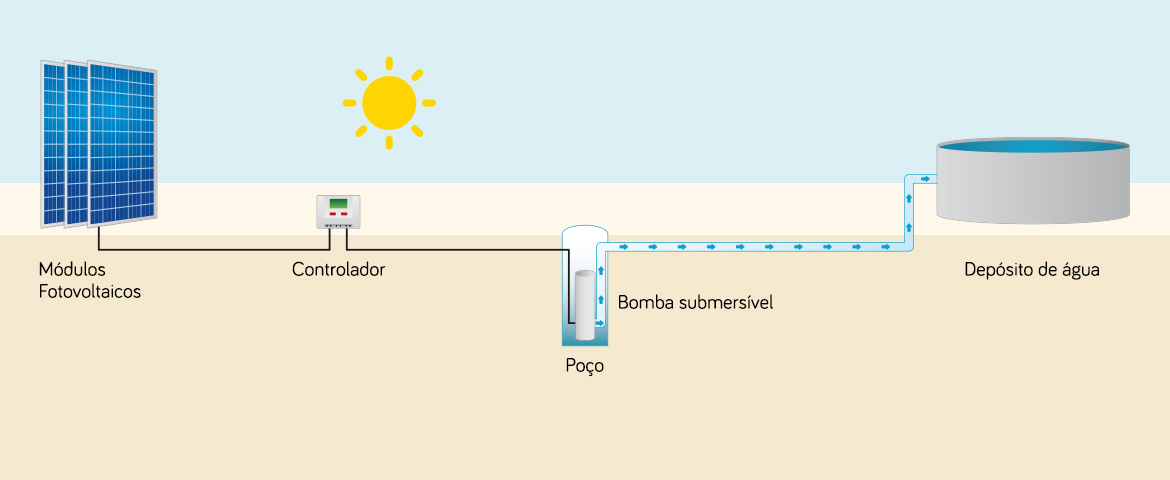 These systems consist only on three components, which require very little maintenance, and are easy to implement. Direct coupling between the generator and the pump makes the batteries unnecessary, thus considerably reducing investment costs:
Power Generator: The use of photovoltaic panels or small wind turbines, generate electricity through the wind and solar radiation, ensuring the correct operation of the pump.

Controller: The Sunvia control unit is easy to use, with two-way communication monitoring pump operating conditions indicating faults and avoiding dry running through sensors.

Pumps: The pumps included in Sunvia systems are equipped with high efficiency motor for DC or AC voltage. Our models apply to all situations from low to high manometric heights, and from reduced to highest flow rates.
In addition to our preconfigured systems, we can also design it according to particular needs or requirements. For a correct design, we only need three parameters:
Geographic location.

Desired water flow: cubic meters (m3) of water per day that need to be pumped.

Manometric height: hole or well depth (m).
Submersible Solar Pumps
BSS01001
Submersible pump for a pro: 36m and flow rate: 175l / h

Controller and a 45Wp panel

BSS01002
Submersible pump for a pro: 24m and flow rate: 400l / h

45Wp controller and two panels

BSS01003
Submersible pump for a prof.: 55m and flow rate: 1000l / h

190Wp controller and three panels

BSS01004
Submersible pump for prof. 80m and flow: 1250l / h

190Wp controller and five panels

BSS01005
Submersible pump for a prof.: 100m and flow rate: 1150l / h

190Wp eight-panel controller